I keep a Google Trends Gadget on my iGoogle search page to check out what the world cares about. Todays Top ten had me laughing.



First off, far too many people are watching "Are you smarter than a fifth grader?" Not only that, they are cheating while playing at home. If you have to use Google then you aren't.

Second, I was intrigued by todays #6 entry. Searching on it didn't explain much until I came across this at xkcd.com.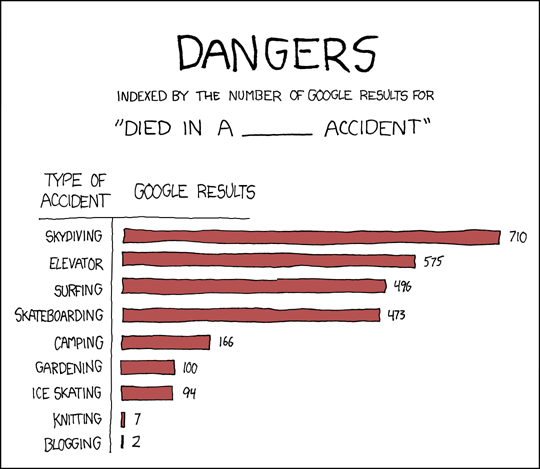 Nicely done, not only is it funny (as always with xkcd) , it also skewed Google's trend tracker. XKCD is one of my favorites and it's worth anyones time who enjoys geek humor. If you've never seen it before, be prepared to waste the next hour or so of your life.

MrCopilot

update 8:20am: There are now 1440 results from google making it the # 1 most dangerous on the list. I'm glad my warped sense of humor is shared.

update 24 hrs later: Over 7,ooo results. I should really think about getting out of such a dangerous business.


Update 8:15pm Just for Ken.: 11,600 Results